Tide Table Chart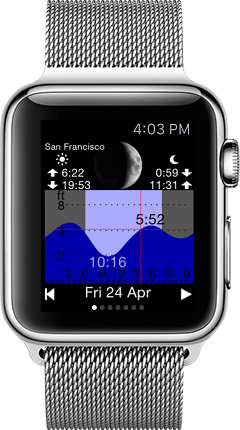 The Apple Watch app Tide Table Chart provides quick and easy access to high tide and low tide forecasts.
Swipe left/right to see the tide chart of the next day or play an animation of moon phase and tide changes to get a quick overview.
This Apple Watch app can be used without connection to your phone. But you should run the
iPhone app Tide Table Chart
once per week to update the tide data on your watch.
Get
Tide Table Chart for Apple Watch
on the Apple App Store:

---
Home
About Us
Products
Support
Contact