Tide Table Chart
High tide and low tide forecasts:
Hauraki Gulf : Whangateau Harbour
New Zealand : North Island
Last High tide:
Next Low tide :
Next High tide:
DISCLAIMER: - The tide data are based on astronomical tide predictions and do not take into account the effects of strong winds, rain, floods and other meteorological events. Do NOT use this app for navigation or any other purpose that may result in personal injury or property damage. Use it at your own risk.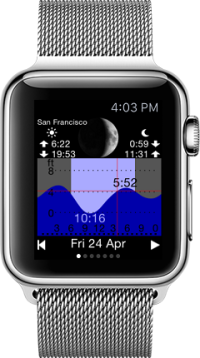 Click left / right to see the tide chart of the next day or play an animation of moon phase and tide changes to get a quick overview.

Whether you love to surf, dive, go fishing or simply enjoy walking on beautiful ocean beaches, Tide Table Chart will show you the tide predictions for Hauraki Gulf : Whangateau Harbour and give the precise time of Sunrise, Sunset, Moonrise and Moonset.

Get Tide Table Chart as Android, iPhone or Smartwatch app:

---
Home
About Us
Products
Support
Contact